As of May 5th, 2020, our intention is to begin our season activities the week of June 1, 2020. 
The City of Gering is likewise working on a set of guidelines that will define our ability to begin team activities.  Those set of guidelines will be based on Governor Rickets Directed-Health-Measures (DHM) and what those measures look like when the existing measures expire on May 31.
Until those guidelines are released, we are preparing as if we'll be able to begin practices and games the week of June 1, 2020.
The poll we release last month has most who participated choosing to play a shortened season, assuming we are able.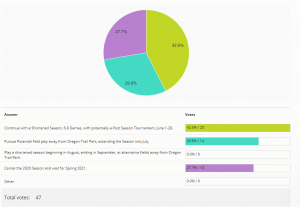 With this our plan is to begin practices and games during the week of June 1, and will run through June 28.  This will gives us the best chance of a meaningful season.
Should DHM's be extended into June, we will more than likely cancel our 2020 season and move towards planning for 2021.
Registration will now close on May 15.   This will allow us to assign teams, etc. and get ready to start.   No registrations will be accepted after this date.
Registrations will be online only.  If may pay by check or credit card using the TeamSnap portal.    Should our season be cancelled, you will be refunded league fees, minus processing fees.
We hope to see you at the park in a few weeks!